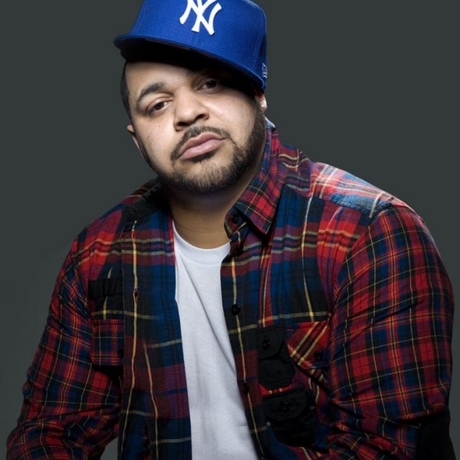 On this cool Autumn night Mista Montana and Menace do this:
We are joined by one quarter of Slaughterhouse Joell Ortiz to detail his latest and 3rd solo release "House Slippers". Described by Mr Yaowa as his most honest record to date, we discuss his current creative space, feeling comfortable and why he no longer feels he has anything to prove. We also talk the support of Penalty Records, working with production trio The Heatmakerz, IllMind, a possible upcoming remix with Eminem and more!
High Focus Records' mastermind Fliptrix takes to Conspiracy Worldwide Radio to address his latest conceptual album "Polyhymnia"; the 3rd instalment of a series and the first produced in its entirety by Molotov. Joining us on the albums launch we touch on its making as well as upcoming High Focus releases from the likes of The Four Owls, Leaf Dog and Young Zee, Jam Baxter, Dirty Dike, Mr Key and Onoe Capone. We also talk creative control, video's, graphic designer One87, Rag and Bone-Man's video being played on MTV, the recent passing of Graf legend King Robbo and so much more.
The legendary Evidence grants us 10 minutes interview time prior to catching a flight to discuss the fantastic Dilated Peoples album "Directors Of Photography"; an album he says they did because they wanted to - not because they had to. We talk and explore its making and how some of it was made in sections, recording as a solo artists versus recording as part of Dilated Peoples, artistic growth and more.
Bostonian favourite Slaine sits down to detail the making of his latest album "The King Of Everything Else", his forthcoming group projects and films. We discuss how his lifestyles decay would eventually become the crash and burn story forming as inspiration for its direction, exercising demons, working with artist Skam2, an upcoming European tour, a lead role with Harvey Keitel in a film called "By The Gun", a role as serial killer in the indie-Horror flick "Girl House", an upcoming collab with Apathy and more.
Underground veteran Marq Spekt makes his debut appearance on the show to walk us through the creation of his collaborative album with Blockhead "JustPlayWitit" and promote his upcoming beat tape and Hardcopy coffee table book. We also travel through his illustrious career and reflect on his time recording with Broady Champs, working with Karniege as part of Invizzibl Men, Open Mic Eagle, Aesop Rock, Kno and more.
Andre Leroy Davis has provided a visual record for Hip Hop for over 2 decades, most notably as illustrator for The Source magazine's "The Last Word" column, which ran from September 1990 to January 2007. In an effort to celebrate his legacy and the return of "The Last Word" we sit down for a candid discussion about working at The Source, being humbled by Heavy D, his thoughts on why and when The Source changed, his favourite illustrators, working for Def Jam, an upcoming gallery in New York and so much more in an interview with a bonafide cultural icon.
AND THAT'S NOT ALL!
Mista Montana and Menace announce Conspiracy Worldwide Radio's 10th Year Anniversary Mixtape - if you would like to contribute then please contact us
ENJOY THE WIND!
Contact: conspiracyworldwide@gmail.com