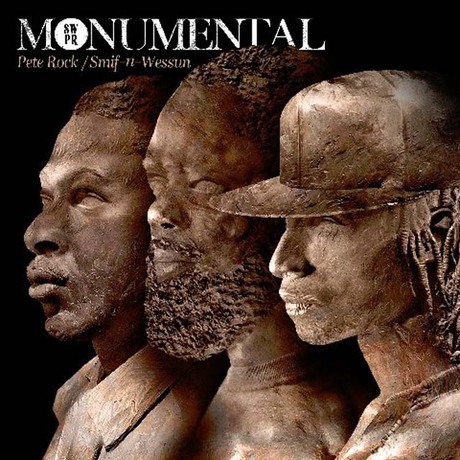 On this special iTunes-only
microcast
we have:
Pete Rock
and
Smif N Wessun
step up for a rare and candid interview. As per usual the result of this is nothing short of a family affair. In an interview which sees Pete Rock talking to us on CWR for the third time in just three months, we are reunited with Steele for the first time in over a year to discuss what just might be the most significant release in his his career so far: Monumental. We go back and talk their earlier collaborations, recording
Monumental
, Hurricane G and Black Rob's guest features significance, as well as an uncontrollable live acapella session. Essential. One third of the workhorse that is
Random Axe
,
Guilty Simpson
joins us from his hotel to discuss the forthcoming self titled Random Axe album and more! We talk the highs and low's of Random Axe's current tour, the philosophy and creation of Random Axe, the making behind Chewbacca and The Hex, Hex Murders role in the albums direction, competitiveness, collaborations, a series of O.J. Simpson albums with
Madlib
, a forthcoming album entirely produced by Oh-No and his long-term plans of dabbling in production in the near future and much more!
Freddie Gibbs
turns up the heat on what was a cold day in May to talk about his forthcoming mixtape A Cold Day In Hell and the status on his highly anticipated CTE Records album Baby-Faced Killer. In addition, we are given an update on his "secret project", supergroup
P.O.C
(Pulled Over By the Cops) citing that Chuck Inglish and Bun-B are handling some of the projects production duties and of course his recent signing to Young Jeezy's CTE Records and his treatment as an artist since. Furthermore, we touch on a gang of topics in true Gangsta Gibbs fashion including:
Lil B
's controversial album title "I Am Gay" and more! We are graced with the presence of a mixed bag of equally dope emcee's, producers and deejay's collectively known as The
Brown Bag Allstars
to discuss a bag of topics including: The creation of their new compilation Brown Bag Season Volume 1, chemistry in the lab, their sound, the future and much more! It's Brown Bag Season!
AND THAT'S NOT ALL!
Montana
and
Menace
go deeper than ever before, tackling issues and debates deemed too controversial for the original Friday Night Live Show - you were warned! Enjoy our version of Micro!