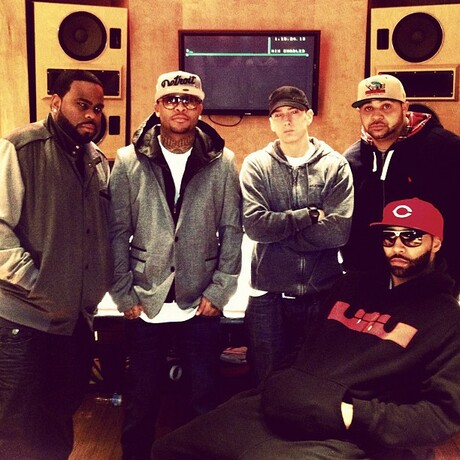 On this sinister Friday 13th show Mista Montana and Menace do this:
Slaughterhouse join us mid-way through a busy recording session with Eminem to tell us all about their new album, with Crooked I breaking down the new "Psycho" track produced by Em. With Eminem sat opposite, we hear how intensive their studio time has been this week, with over 50 songs already laid down featuring a host of high profile producers. As excited as their fans for this release, Crooked I cites this forthcoming Slaughterhouse album as some of the group's best ever work, with hopes to make a exhibition-style on-record battle track with HRSMN happen soon. We hear how pivotal Eminem is to the process of success for the group, as he sits at the boards mixing down their latest track as the interview proceeds. In addition to this we also discuss how The Horseshoe Gang have developed as a group and how important they are to their mentor Crooked I. A true classic update and an unforgettable piece of Conspiracy history.
Detroit statue Danny Brown was one of the most refreshingly prolific artists of 2011! Accomplished, proud and humble, he joins us on this episode to celebrate and talk the magnitude of his impact in 2011, including some of our favourite releases XXX and Black & Brown!, garnering mainstream media recognition, directing video's, ambitions of one day writing a Jay-Z Decoded esque book, collaborating with rising UK producer Paul White, blurring the lines between street slang and internet slang, Mr. MF Exquire, Mac Miller, Jack White, new material and more in a info-packed feature, guaranteed to make you watch Danny Brown' s every move in 2012
An awake and content Copywrite joins us us to discuss his forthcoming LP God Save The King, detailing its content and direction with the revelation that it was initially set to be an album exclusively made for the UK. Filled with a renewed belief and energy in spreading the word of God, we are surprisingly informed that he "doesn't care about rap.." and that he isn't fond of the content of his new album beyond two tracks, both of which will reveal a deeper and more religious side of Copywrite. We also talk 2011's MHZ lost Demo's and rare freestyle's compilation as well as the forthcoming MHZ studio release and much more in an interview with a Copywrite you have prior to this never before heard.
Super producer Apollo Brown & Diggin' In The Crates crew emcee O.C. step on to the show to explore their forthcoming collaborative project Trophies and their chemistry. Conceptualised in New York and recorded entirely in Detroit, Michigan, for the first time im O.C.'s career Trophies see's him working with one producer in its entirety as well as the first time Apollo Brown has collaborated with a golden age emcee for a full length release. Pioneers and students, these two artists are set to make some of the most reassuring music of 2012, so it was our pleasure to share time with them on the show.
Homeboy Sandman waltzes into the studio, platter in his hands, delivering us food for thought on his forthcoming ep, Subject Matter, which will see its release via Stones Throw Records later this month. Ever eloquent, engaging and thought provoking, Sandman breaks down the subject of his matter and makes the most of mattering as the subject in this interview, breaking down songs off Subject Matter as well as blessing us with an acapella at a Grocery store. Homeboy Sandman is an emcee that matters in 2012 and will continue to matter as his subject resonates with Hip Hop heads across the world! Inspirational listening.
Newcomers Rashad and Confidence surprised many by putting out one of 2011's finest pieces of work, The Element Of Surprise, so it was a no-brainer that the Brooklyn and Philly natives joined us to discuss the album's making and formulation of its origins, citing a genuine and paralleled love for each others work, and finding inspiration in Golden-Age Hip Hop. We also talk the now much anticipated sequel to The Element Of Surprise, silent fans and supporters and much more! Don't sleep on these guys, crew.
AND THAT'S NOT ALL!
Sons Phonetic are one of Ireland's dopest hip hop collectives, making music with the type of depth and heart that the UK hip hop scene once cherished. Their recently video-supported tracks Casino and Isolation are some of the best examples of hip hop you will hear all year. So it was our honour to talk with the group and gain a better understanding of their background, their passion for the hip hop craft and their plans for 2012, including solo projects from many of the group's members. Definitely add Sons Phonetic to your Bookmarked Artists for the forthcoming months.
Enjoy our pushing!
E Mail: conspiracyworldwide@gmail.com
BBM Pin: 22192BE3