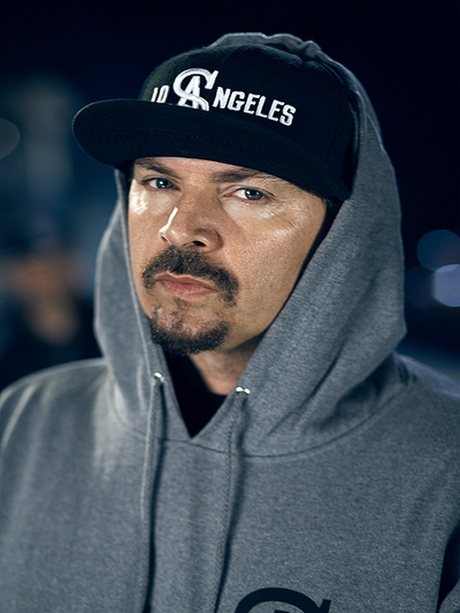 On this hardcore discovery Mista Montana and Menace do this:
Another Conspiracy classic interview in the form of DJ Muggs, who makes yet another appearance on The Friday Night Live Show. Fresh off the heels of his recently released Bass project 'Bass For Your Face', Muggs joins us on the show to discuss this and promote his upcoming "multi-media" collaborative EP 'Cross My Heart', as well as other projects including; his much anticipated album with Meyhem Lauren, which he describes as having a "down-tempo sound" and reveals that 4 tracks will feature Action Bronson, the brand new Cypress Hill project which is well underway with the revelation that 30 beats have already been made, an EP with Vinnie Paz, a recently discussed potential project with Alchemist, a new Soul Assassins project and more. We also talk the future of the S.A. brand, piracy and technology among many other topics. A must hear interview with a bonafied legend!
With two current chart positions of number 3 album and number 1 Hip Hop album in Canada, Swollen Members are back and what better way to discuss their new album 'Beautiful Death Machine', than with King of pain Madchild. In this past meets present interview we talk about the making of 'Beautiful Death Machine' taking it back to basics, working with 'BDM's' featured collaborators, touring, the importance of Battle Axe Warriors in the lives of Swollen Members, Madchild's collaborative project with Slaine and much more in an inspirational interview with one of Canada's greatest!
In what might possibly be the most unrevealing interview in the history of The Friday Night Live Show, the Sex-Pistols of Hip Hop Flatbush Zombies, join us from a van to talk ever so briefly about their past, upcoming project, of which no details are revealed about other than it is coming Spring time, their distaste for media, the XXL Freshman 2013 picks, legends such as Ill Bill, Smif-N-Wessun and Buckshot reaching out and giving props and.. little more! A very brief interview from a promising group with much colour in their style.
Westcoast legend Planet Asia and master producer Gensu Dean stop by to discuss the creation behind their upcoming Mello Music Group release 'Abrasions' and plans as individual artists respectively. We talk; making 'Abrasions' and its creative process, chemistry, working with the many artists featured on 'Abrasions' such as David Banner and Shawn Pen who Planet Asia attributes as an underrated artist, 'Abrasions' initially having a different title and being signed to Mello Music Group. In addition to this Planet Asia speaks on the recently released Alchemist laced Durag Dynasty project, an upcoming collaboration with Melanin 9 and more, before shooting down the rumour of an alleged Madlib collaborative project. Beyond this, Gensu Dean reveals a forthcoming collaborative project with fellow Mello Music artist 7evenThirty and more! Essential listening.
2013 marks the return of the Ultramagnetic MC's with a brand new album and supporting European tour. Ever entertaining and knowledgeable, veterans Kool Keith and TR Love speak exclusively on Conspiracy Worldwide on a wave of topics, including the main event that is the new album and their upcoming European tour. The group's reaction to a question regarding the alleged death of Tim Dog is both surprising and to some extent, shocking. Could Tim Dog still be alive? Listen to the end of part 2 of this episode for even more confusing evidence suggesting that hip hop may still have within its community the east coast hardcore legend himself.
The man who singlehandedly brought back Conspiracy Worldwide Radio, commonly known as Kid Vibe, makes his debut appearance on the show to discuss his group Paleface Junkies and their history. We talk the dumbing down of hip hop, society and the need for artists to create their own world with their music. Check out the videos discussed here and here.
Joining us on a "Rinse-out" Friday, High Focus Records returns to the show in the form of one fifth of Contact Play, Jam Baxter. The SMB vice-executive joins us from the luxury of his home studio to discuss his new group project, namely, Dead Players ( Dabbla & Ghosttown) and his upcoming collaborative project with Edward Scissortongue, 'Laminated Cakes'. We also talk his creative process in the lab on 'rinse out Friday's' and 'spack-out Monday's' , Boom-Bap Festival 2013 among many other topics. A gruesome feature oozing amazing revelations from one of Hip-Hop's elite lyricists. Don't sleep!
AND THAT'S NOT ALL!
In this 6 hour opus of hardcore hip hop broadcasting Mista Montana and Menace delve deep into the terrifying world of local news, including dangerous flapjack injury, sex in the floor and of course the inevitable pending danger of a cow's only communicative mechanism. Watch out for the outakes!
Enjoy our pressure!
Contact us at conspiracyworldwide@gmail.com