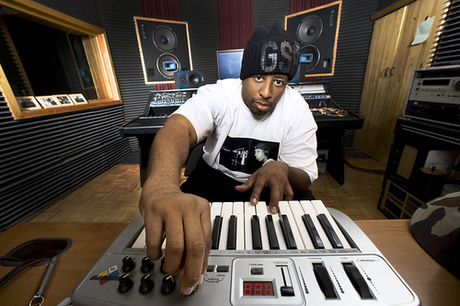 On this
stuffed to the limit
comeback show we have:
DJ Premier
steps sway from a busy recording schedule to grace us with his presence, delivering a classically 'Primo' interview. We explore his current production work with Kayne West, his hope that Busta Rhymes will finally like one of his beats the tenth time around, his desire to work with
Eminem
and all of his up coming projects. Essential listening for hip hop.
Slaughterhouse
's vocal exciter,
Joe Budden
, makes an appearance sounding as self-assured as you would expect with his album Great Escape and Mood Music 4 around the corner. We explore the content and logic behind his new book Enter The Mind Of Joe Budden, his recently recorded track with
Eminem
and the many artists he has worked with in the process of creating his new projects.
Bishop Lamont
doesn't do interviews anymore, unless the interviewers have earned his respect in the past. So it was our pleasure to talk with one of hip hop's most travelled and hear the full story behind his departure from Aftermath, his acting career and more importantly, his new music. We discuss his new work with
Erick Sermon
and
Pete Rock
as well as hearing how he plans to make a European album featuring UK emcees. A true blessing.
Slum Village
have a new album out and have recently recorded a video. So you would expect group member
Elzhi
to be full of zest and information about his groups work. However, recent events have dampened and confused Elzhi, as he tells us how his group have recorded a video without telling him and omitted him from various projects. We focus on his new album and even find time to discuss Inception.
Simon Rex
aka
Dirt Nasty
is one of the mainstream's most prolific artists. From his acting career, to his stand-up comedy - all the way through to his hip hop alter ego, Dirt Nasty, Rex is an amazingly talented and endlessly creative performer. Packed with energy and gusto, this interview has classic written all over it, as we meet the man behind the music with an ample splattering of Dirt Nasty for good measure. His album
Nasty As I Wanna Be
is released Aug 10th - go support.
AND THAT'S NOT ALL!
Montana
and
Menace
offer you the chance to design the first ever Conspiracy Worldwide Radio t shirt. Simply submit a design (two-colours) to
conspiracyworldwide@gmail.com
before Aug 12th and our favourite creation will be chosen and worn by listeners and artists alike. DON'T DELAY! Enjoy! Contact us at
conspiracyworldwide@gmail.com
OR Blackberry Messenger: 22192BE3 CLICK PLAY to stream or DOWNLOAD to keep.