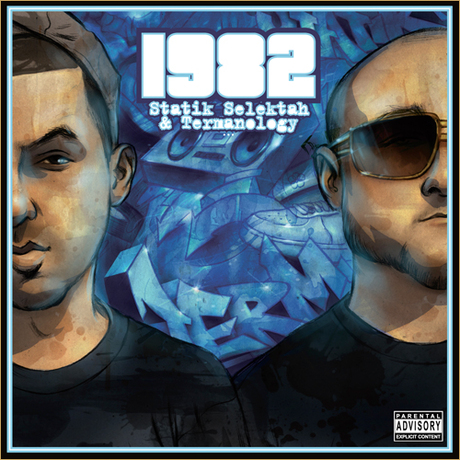 **TO LISTEN OR DOWNLOAD SEE THE END OF THE SHOW DESCRIPTION - POST TO YOUR FACEBOOK PAGE IF YOU LOVE HIP HOP !**
On this fast paced
tropical hurricane
we have:
Statik Selektah
and
Termanology
join us to discuss the forthcoming
1982
album and their lifelong relationship as friends and musical colleagues. Intimate and informative, this 40 minute feature explores the history of two of the most prolific artists in modern hip hop and dissects their new album track by track, including graphic accounts of their party-packed studio sessions with such artists as
Freeway
and
Saigon
. Hear all about their up coming projects, much of which have never been discussed anywhere until this show. Towards the end of the interview, the refreshingly talented
Reks
jumps into the interview to touch down on his new album and mixtape. Essential listening.
El Da Sensei
steps in along side his cohort and recent collaborator,
Rakka Iriscience
to discuss their respective recent triumphant album releases. We explore the significance and current health of the graffiti culture in 2010 and debate its comparison with the graphic design scene. El Da Sensei confirms that
The Artifacts
,himself and Tame One,are
OFFICIALLY reunited
and working on their new album for release soon. Rakka delivers even more great Dilated Peoples news to conclude what is yet another piece of Conspiracy interview artwork for our respected galleries. Hip Hop hasn't died - it is still waiting for its chance to be born.
Guilty Simpson
is one of the most lucid emcees in modern hip hop. Joining us on the brink of new DuckDown Records supergroup,
Random Axe
and their debut album release, Guilty breaks down the full project, including his relationship with fellow group members Sean Price and Black Milk. He also explores the creative process behind his recent OJ Simpson album with Madlib and explains that the sequel is not far away, with Guilty and Madlib hard at work on
OJ Simpson 2
. We paint pictures with words.Another classic.
Cey Adams
has literally shaped the vision of the hip hop culture. His artistic flair, both as the designer of hundreds of classic album covers and as the developer of so many artists' visual persona, is not only awe-inspiring but has moulded the memories of generations of hip hop fans around the world. We discuss Def Jam Records, the creative process behind such classic album covers as "Ready To Die" and "Fear Of A Black Planet", as well as discussing the evolution of graphic design and album art in hip hop, citing such companies as Pen & Pixel and the recent boom in DIY online artwork. This 50 minute opus is
absolutely timeless
- please do not miss.
AND THAT'S NOT ALL!
Bilal
joins us for a fruity interview, discussing his impressive catalog of work with such artists as Jay Z, Common, J Dilla and Guru. As heart-warming as you would expect, Bilal affectionately recalls studio sessions with Dilla and explains the creative studio process that Jay Z displays, as well as comfortably exploring his own place in hip hop and modern soul music. Bilal fans and people who appreciate heart-felt poetry should not miss this. Enjoy! Contact us at
conspiracyworldwide@gmail.com
OR Blackberry Messenger: 22192BE3 Mista Montana -
http://www.montanauk.com
Menace -
http://messengermenace.blogspot.com/