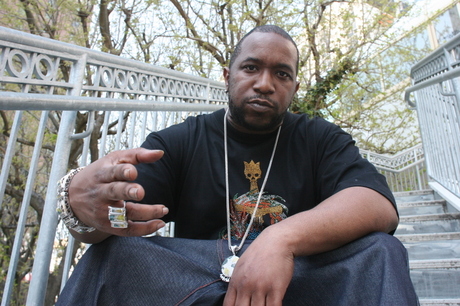 On this
brutal, knife-drawn cage match
we have:
Kool G Rap
joins us for an epic exploration of his career, ranging from his life inspirations, his back catalog of classics and his writing craft, right the way through to his new album Riches, Royalty & Respect. As legendary as you'd expect, G Rap breaks down his opinion on how hip hop has developed, as seen from his experienced eyes and offers discussion on artists such as
Canibus
and Marley Marl - as essential as the man's very essence in hip hop.
MOP
kick the Conspiracy Radio studio doors off their hinges once more as we discuss the forthcoming MOP album. including individual track concepts and expected collaborations. We chat Slaughterhouse, Shady Records, G Unit, Canibus and MOP's expected involvement with Busta Rhymes new album. Both Billy Danze and Lil Fame have full length solo albums ready, so it was a pleasure here about their content and what MOP fans can expect in the next few months, including their work with
DJ Premier
.
Slaine
is a very busy man. We discuss his role in the box office smash, The Town with Ben Affleck, his debut solo album release and his contentment with how rapidly his overall career is ascending to new heights. Short and sweet - this is probably one of the briefest glimpses we have ever had of a guest.
Vakill
powers his way onto the show to explore the science behind his new album Armor Of God, taking a very rigid stance on the current 2010 marketing strategies that his peers tirelessly utilise. Fully equipped for World War 5 Vakill is packed full of vengence within this interview and delivers one fo the sharpest freestyles we have heard for some time. Redphone Records'
Nightwalker
blasts into the studio to deliver a classic lyrical tirade on his so-called competition, in the process discussing his new album and past achievements in full. As savage and uncomprising as you may predict, Nightwalker makes it clear that nobody stands between him and his aspirations in 2010.
DJ Bless
and
Donnie Darko
menace the hip hop status quo, as we delve deep into the evil, slime-filled moat that is the modern hip hop industry. Expect a gloves off street brawl as Bless and Darko reveal the true lies that engulf many mainstream and underground artists - this was as cathartic as it could ever get. We also take time to discuss the success of Bless and his new score to the VH1 Kc & JoJo show and his relentless hammer that is
Never So Deep Records
.
AND THAT'S NOT ALL!
In support of the up-coming
Cross Bone T
project entitled 'The Awakening', Skull & CrossBone Productions are launching a remix competition to find the project's closing single. The track entitled 'Hip Hop' features UK Hip Hop veteran
Kashmere
The Iguana Man on the mic, While Sensei Fm's Jda Kut controls the wheels of steel. The competition winner will grab the main single spot while second place will get the b-side remix and be featured on Conspiracy Worldwide Radio. Download the accapella here:
http://www.sendspace.com/file/bq1xhl
Please send all entries & queries to:
Skullandcrossboneproductions@gmail.com
Entry Closing Date: 1st Nov 2010 Enjoy our hard work! Contact us at
conspiracyworldwide@gmail.com
OR Blackberry Messenger: 22192BE3 Mista Montana -
http://www.montanauk.com
Menace -
http://messengermenace.blogspot.com/