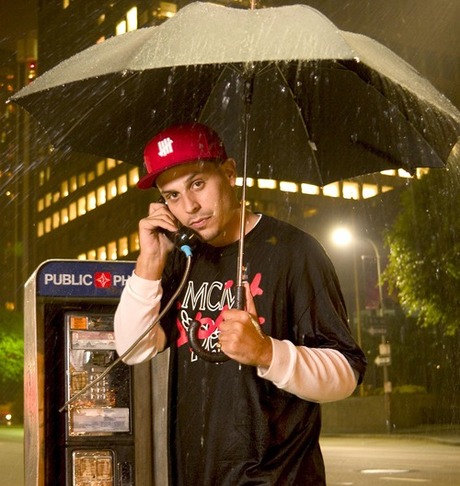 On this passionate,
windy memoir
we have:
Dilated Peoples'
vocal point,
Evidence
, takes time out from a busy studio session with
The Alchemist
, to offer us a deep, heart-felt reflection upon his recent life and seemingly creative hiatus. We hold a detailed discussion regarding his new 2011 solo album
"Cats & Dogs"
, the new Dilated Peoples album
"Directors Of Photography"
, his work on The Step Brothers project and his plans to work with Exile. In addition to the aesthetics of musical discussion, Evidence also offers real-life reasons as to why he has seemingly taken a step back from music and pinpoints his recent video for "To Be Continued" as a metaphorical hint at the way in which his life has developed over the past 12 months. He has survived beef with
Eminem
but are they set to collab soon? Only listening will reveal.
Slaine
joins us on the road to yet another live show. Classed by listeners of the live broadcast as one of our most heart-wrenching interviews to date, Slaine pulls no punches in explaining the horrendous situation he has recently found himself in with his new album
"A World With No Skies"
. Not only was the full album bootlegged in its entirety months before its release but the consuming need to clear samples has resulted in Slaine pulling the album and revisiting the studio to recreate the entire project. We explore his work as an actor and have the rare chance to see the main motivating factors in the constant struggle of one of hip hop's most thoughtful. You can't afford to miss this.
MTV Fight Klub Champion
and venom-tongued powerhouse,
NEMS
, steps up to the plate to offer a candid exploration of his electric career and life so far. We discuss the reasons for his album setbacks and his time with
Necro
on Psychological Records, as well as being blessed with an evil live spit. NEMS' colourful past and frequent clashes with the Law cannot be ignored and within this interview we dissect the impact of prison on NEMS' music and writing process, as well as hearing about all of his future projects and aspirations. Always Hardcore.
Kashmere
is one of the UK's most original and consistent artists. His new album is set to become a modern classic,echoing the early work of
Company Flow
and Cannibal Ox and it was our pleasure to talk with the mind behind the madness. Rarely do UK artists that matter get a platform to explain themselves in 2010 but in this opus we dig deep discussing Kashmere's relationship with Jehst, including their forthcoming collaborative album on YNR records produced solely by The High Plains Drifter himself and much more in a refreshing and purposeful meeting.
Verb T
joins us live from a seedy Chinese Takeaway to explore his new musical adventure,
"Serious Games"
. Rated as one of the most respected emcees to emerge from UK shores, Verb T explains the creative process behind the album and identifies the reasons for its varied, brave sound. Esential listening for all Verb T fans and followers.
Prose
are one of the UK's shining lights when it comes to solid, action-packed hip hop.Their new album is already being hailed as a UK classic and their time with us on this show is only set to cement that. With not a strip of industry red tape around them, Steady and Efeks personify their honest, heart-felt music, taking us on a journey through their rise to respect, including their recent tour support with
DJ Premier
and Royce Da 5'9". As warming as their very music itself - dont miss the rush.
AND THAT'S NOT ALL!
Menace and Montana's illness becomes so acute that at one stage on this show, both of the Official Bad Boy Duo of Rap Radio have to leave the studio in search of tissues, Andrex and nurses, only to return a few moments later with Twiglets and
goosefat
. Hard to believe but true. ENJOY!
Contact us at
conspiracyworldwide@gmail.com
Blackberry Messenger:
22192BE3
Mista Montana -
http://www.montanauk.com
Menace -
http://messengermenace.blogspot.com