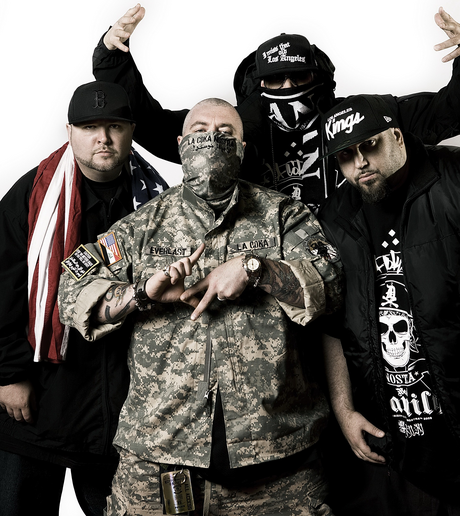 On this posh Season Premiere we have:
Xzibit leaves rehearsals to join Mista Montana and Menace on the show. Full of energy and optimism, X talks us through his new album Napalm, including his work with Dr Dre, the significance of his visit to Iraq and Sadam Hussein's palace. We talk emotions as Xzibit breaks down his on-tape conversation with his late mother, as well as the possibility of a Golden State Project full length album, all dependent on the health of Saafir. This is Xzibit's first appearance on Conspiracy Worldwide Radio and certainly won't be his last. Something amuses him in the intro.
La Coka Nostra creative genius, Danny Boy steps up to the table to explain his integral role in the success and development of one of hip hop's most cherished groups. Expect high emotions as he talks royalty money, a lack of recognition for his input and his struggle to cope after the split of House Of Pain. With relationships now fully restored between himself and other members of the group, Danny Boy now looks to the future and breaks down the success story behind La Coka Nostra, including the groups original members and the importance of wider members of the group such as DJ Eclipse. Was Sean Price really ever in La Coka Nostra? Danny Boy says ask Sean...nicely.
The legendary NWA management mogul, Jerry Heller, takes his seat at the posh table to explore the truth behind the creation and survival of one of hip hop's most controversial groups. We navigate through the history of his relationship with Ice Cube, his rivalry with Dr Dre and more shockingly, his admission that Eazy E was murdered. Needing body guards to simply walk down the street, Mr Jerry Heller has seen things that would make most turn their back on music and he reveals all in this classic interview for all hip hop connoisseurs.
Termanology joins us on the show, live from the comfort of his own bed, to break down his forthcoming album with MOP's Fame. Fizziology looks set to be another classic for Term to add to his collection of accomplishments and we get chance to hear about his relationship with Fame, Statik Selektah and other people important to his success. We talk Termanology as the producer, including his input on the new Wu Tang Clan project as well as his forthcoming full-length with Buckwild. Will he deliver a live acapella from his bed? Find out.
The Coup's Boots Riley is with us to discuss his new album and the significance of hip hop as medium for change. We talk politics, 9/11, the investigative reporter Greg Palast and the creative process behind The Coup's flawless live instrumentation. An in depth conversation with one of hip hop's most revered messengers.
Stig Of The Dump barges onto the show in high spirits to discuss his recent European tour, his powerful new EP Cannon Fodder and his relationship with the UK music industry. We explore UK Hip Hop's recent improvement, his desire to tour the US and Canada (promoters get at us) and his always humourous take on life in general. What a posh way to start a new Season of CWR.
AND THAT'S NOT ALL!
For this brand new episode Mista Montana and Menace welcome back original member of the CWR team, Skinny9er for a brief glimpse at the lifestyle of one of music's most genius designers. Skinny9er is in a secret location which he reveals to be Sheffield and has just finished interviewing a celebrity. Who will it be? Listen to find out!
GET THE NEW CONSPIRACY WORLDWIDE RADIO APP - for all Android-based devices and Google TV - Click HERE to download it FREE!
Contact us at conspiracyworldwide@gmail.com